iain kévin waite
Iain is a yoga instructor and personal trainer that has earned certifications by the American Council of Exercise, the Register of Exercise Professionals, advanced instructor level 3 in the United Kingdom, the European Register of Exercise Professionals, and has the 500 E RYT with the Yoga Alliance. With over 10 years experience in the industry, Iain has successfully trained a multitude of clients in Toronto, Canada; Miami, Florida; London, England and Paris, France where he continues to direct operations and train under the banners Waite Power Yoga, Waite Training & Fitness and Waite Yoga Retreats based in Florida.
Iain specializes in an Ashtanga based yoga vinyasa power flow and also utilizes many elements of his intermediate and advanced yoga asanas and sequences when personal training. He is particularly fond of training self-labelled "older" individuals and helping them achieve fitness goals never thought possible or not experienced since their teens or twenties.
When not training clients or leading yoga classes and individual sessions, Iain spends his free time advancing his personal yoga practice, learning muay thai and visiting international destinations "off the beaten path.". When commitments prevent iain from travel he satisfies his curiosity for international culture through music, art and cuisine.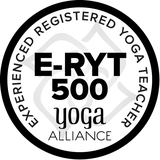 Iain est un professeur de yoga et coach privé. Il a été certifié par "the American Council of Exercise", "the Register of Exercise Professionals", instructeur spécialisé niveau 3 au Royaume-Uni, "the European Register of Exercise Professionals" et a achevé la certification de 500 E RYT avec le "Yoga Alliance." Avec plus de 10 ans d'expérience dans cette industrie, Iain a entraîné avec succès une multitude de clients à Toronto, Canada, à Miami, Floride, à Londres, Angleterre et à Paris, en France où il continue sa carrière sous les bannières Waite Power Yoga, Waite Training & Fitness et Waite Yoga Retreats basé en Floride .
Iain s'est spécialisé en Ashtanga basé sur du vinyasa power flow yoga. Il utilise également de nombreux éléments de yoga "asanas" qu'il séquence avec le fitness quand il fait du coaching. Il aime tout particulièrement aider ses clients qui s'identifient comme "étant vieux", à atteindre leurs objectifs de fitness jamais pensé possible ou plus depuis leur adolescence ou la vingtaine .
Quand Iain n'enseigne pas le yoga, il perfectionne son entraînement personnel. il s'intėresse aussi au "muay thai". Il aime voyager en "dehors des sentiers battus", et quand ses engagements professionnels ne lui permettent pas, il satisfait sa curiosité pour différentes cultures, à travers la musique, l'art et la cuisine. De part ses études, Géo Politiques, Iain lit toute la presse internationale. Il est aussi fasciné par les chats!